What is Microsoft Power BI?
Data evaluation and visualization in the cloud
Microsoft Power BI is a cloud-based software solution for data evaluation and visualization. The business-intelligence solution offers you features that help you prepare data for your analyses. You can use several charts to visualize your data. Power BI is part of Microsoft 365, which means it is already integrated in our unitop solution.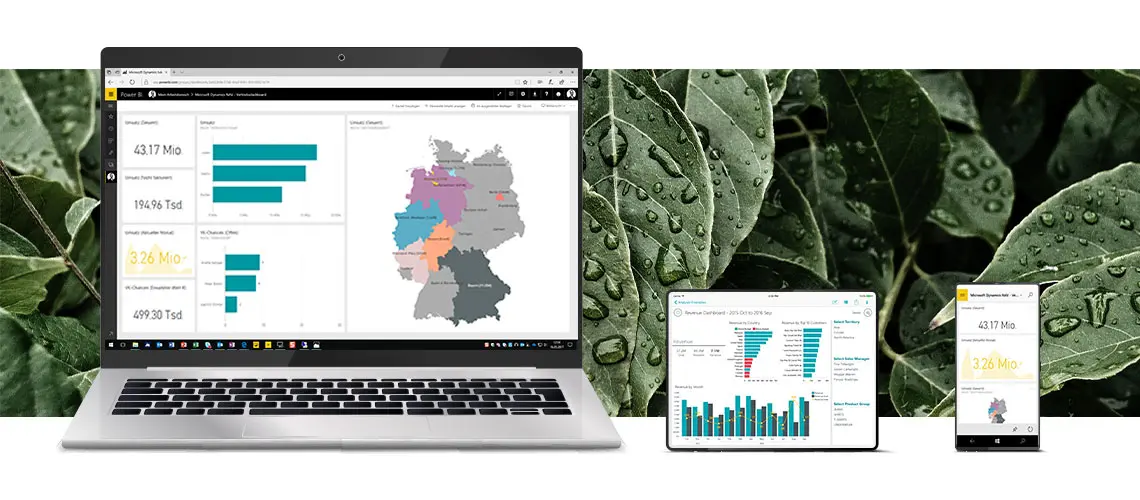 Overview of the main functions
How do you benefit from Microsoft Power BI?
Ready-to-use solutions for your analyses
Benefit from a wide range of ready-to-use solutions when using Microsoft Power BI. You can also create your own solutions to provide your business or your organization with concentrated, customized reports and dashboards with key data from multiple reports. Define exactly which groups/roles get access to the reports and dashboards. Thanks to restricted access, you reduce the number of people that can access the key data of your business or organization.
Modern data visualization
Microsoft Power BI not only offers you the classic table, column, or pie charts, but also so-called shape maps. These help you record and visualize the turnover of your sales area faster and more specifically. You can also customize the appearance (colors, fonts, and logos) in accordance with your company guidelines (corporate identity).
Connecting several data sources
Correlate data from several systems with TARGIT Decision Suite: You can add data from e. g. Excel files, Google Analytics, or market data from the Internet to your own data from Microsoft Dynamics 365 Business Central or unitop. You benefit from a comprehensive data set and can correlate your own numbers with those of the competition. Microsoft Power BI comes with standard interfaces for this.
Access your business data at any time
You can access your reports and dashboards created in Microsoft Power BI with any web browser. There are also free mobile apps for Android, iOS, and Windows 10. This ensures that you are up to date even when you are on the road.
Asking questions and getting the right answer
You are not obliged to create your evaluations yourself. You can have reports generated by Microsoft Power BI, asking targeted questions like e. g. "Which sales area had the lowest turnover last month?" Microsoft Power BI will give you the answer in the form of a convenient chart.
Easy start
There are a lot of tutorials and videos for Microsoft Power BI that will make your start with the tool easier. There is also a public forum of the Power BI community where you can post questions at any time. You can even influence the development of Microsoft Power BI as a member of the community: Pass on user requirements and feedback.
The perfect symbiosis
Microsoft Power BI and unitop form the perfect symbiosis: You find all important information and business data in your familiar work environment and you do not have to switch between programs.
We are Team GOB, your partner for Power BI
We truly are a medium-sized company, just like our customers. Half a century of experience with small and medium-sized businesses from industry, trade, and the non-profit sector enables us to meet our customers eye to eye and to adjust to their individual needs. Our employees are our greatest potential. We know that, and that is why continuous development and further education of our more than 300 employees is an essential characteristic of working together. It's all in the mix. Our employees bring experiences from various (specialized) areas, a real added value for everyone involved!
But that is not all. What is the point of the best software solution if our customers are not able to use it the right way? Taking every single person with us on the journey into the digital world is a matter of great importance to us. We will take you by the hand and we will walk the way together with you at your individual pace. Step by step. Successful communication is very important to us, which is why consulting and service "eye to eye" is our top priority.
Which business-intelligence solution is the right one for you?
We can find out which business-intelligence solution is the right one for your business or your organization in a joint conversation. A team that is totally specialized in BI knows your requirements very well from more than 100 BI projects.
We will gladly consult you. Make an appointment with us right away.
Contact form