The challenges faced by industrial enterprises today are multi-layered. One of these challenges, for example, is the growth in customer requirements. Customers not only require ever more cost-efficient and high-quality products, but also ever shorter delivery times. An additional challenge is globalization and increasing international competition. Only those companies that adapt to the new requirements in a timely manner will be able to hold their own successfully in national and international competition.
An increasingly large number of variants, falling batch sizes and seamlessly interlocking work processes – the requirements in the manufacturing industry are also continually increasing. Many manufacturers need to take their customers' individual requirements into account as early as the quotation phase. Especially in the case of complex and challenging production processes, clear agreements are important from the very outset.
Particularly in the case of the manufacture of very different products and items, a relatively large workload is often involved, coupled with high requirements on costing. In such cases, it is important for the software to meet the requirements. Keeping track is crucial: from quotation to costing through to delivery.
The current organizational processes can frequently no longer be modelled in a manner that satisfies requirements using IT systems and software solutions that are usually several years old. Many companies come to terms with this situation – to the detriment of efficiency. Most software solutions in the age of "industry 4.0" no longer meet current technical possibilities.
That means: potential is often not maximized.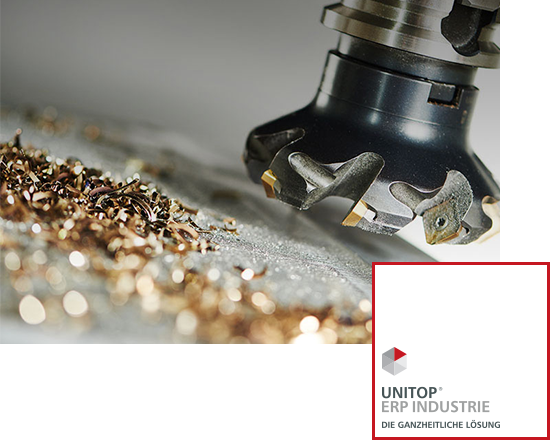 All the tools that you require – in one place!
We see it as our task to find concepts and solutions to suit your individual situation. In this respect, we can look back on 50 years of industry experience and the realization of 1,000 ERP implementations.
Our industry solution unitop ERP Industry combines all the functions that you require to model your complex tasks and processes.
Contact cockpit
You have all information about prospective customers, customers and suppliers at a glance on one screen in the contact cockpit – from contact details, completed tasks and visit reports through to unpaid invoices.
Production confirmation and costing
Obtain, among other things, timely and accurate data on production progress and item manufacture. See for yourself and discover unitop ERP.
Flexible reporting
All key evaluations and company data at a glance. Individual reporting whenever you want. If you want to integrate data from external sources into your evaluations, then opt for Business Intelligence.
Document management
Substantially reduce your employees' search times by using document management in your software for the transaction-based storage of internal and external documents, such as e-mails, incoming mail or complaint documents.
Variant generator
If you manufacture many variants of one item, the variant generator assists you in pricing or creating new sales variants. You can create master data like BOMs and routings at the same time.
Item cockpit
You have quick and easy access to all relevant information for an item in the item cockpit of your software. Would you like to visualise your items with photos? You can do this easily using the drag & drop function.
We offer software solutions for the following industries
Customer testimonials
Join hundreds of satisfied customers
Today, we are reaping the benefit of integrated processes across all corporate divisions and have significantly increased transparency and interpretability.
Jörg Kleinecke, Head of Administration
Stahlwerke Bochum GmbH
In the 30 years with GOB, there has not been a single day on which we were forced to do without our IT systems.
Herr Stollenwerk, Authorized Signatory
Wilh. Becker Hahnreiter GmbH