The ERP software for e-commerce and multichannel trade
Break new ground – optimize your success with unitop ERP Multichannel
The expanding e-commerce has become one of the most important drivers in our economy. Current forecasts assume that this trend will keep up and that growth will continue to increase rapidly. This development leads to a lot of new challenges, especially for start-ups, small and medium-sized businesses and multichannel service providers. For instance, the distribution channels offered need to be reconsidered, especially in terms of delivery fees for parcel shipment and returned items. Another factor is the market power of the giants of the e-commerce sector like Amazon or Zalando. Only businesses with optimized processes can remain competitive and meet the challenging requirements of the customers.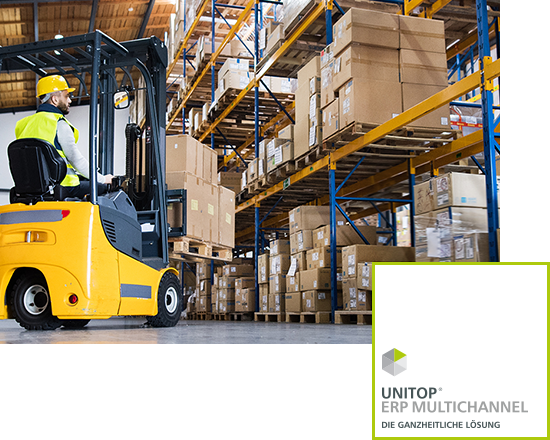 Multichannel
Digitalization and automation of business processes
Digitalization and automation of all processes in a business form the base for a successful future and for using advantages in competition. Centralizing all data in one system is especially important in e-commerce to prevent additional effort caused by dual data administration. The best tool for data centralization is an ERP system.
An ERP system not only enables you to centralize internal information from financial accounting to enterprise resource planning, but also offers interfaces to online shops, marketplaces, distributors, and banks that enable integration and central management of external data.
unitop ERP Multichannel: your ERP software solution for e-commerce and multichannel trade
unitop ERP Multichannel provides you with a central data management. All sales channels access the same database, whether it is your online shop or the marketplaces that you use (e. g. Amazon and eBay). You always have access to current information from anywhere in the world. At the push of a button, all important business data is available to you at a glance which greatly increases the transparency of your business. Our sophisticated, integrated customer relationship management (CRM) helps you register your customers' needs and fulfil their expectations. Benefit from the comprehensive possibilities of unitop ERP Multichannel.
Central data management – keep track of things
If you are an e-commerce retailer, you have long since been aware that your customers' buying patterns and requirements have changed during the past years. Sales activities have been changed to meet these new requirements. Managing your inventory is a decisive step to ensure stock availability and delivery capacity – you simply need to know which goods are on stock and which have to be ordered. With unitop ERP Multichannel, you manage your inventory so that the right amount of goods is available at the right time. Use our software solution to optimize your warehouse management, reduce inventory, and avoid idle time.

Handling customer complaints or damaged goods is just as important as controlling orders per container. If one of your items is out of stock, you can easily insert a substitute item in unitop ERP Multichannel.
First class infrastructure and working environment
Stable operation
unitop is so well-engineered that it reflects the processes in your industry in standard functions like no other ERP software for e-commerce and multichannel trade. This high level of standardization accelerates the implementation and supports a stable continuous operation, easy updating and maintenance and low-cost Cloud hosting, if needed. It goes without saying that unitop can easily be adapted to your individual requirements if desired.
Seamless integration of interfaces
Current data like the number of items in the inventory and their prices is especially important in the e-commerce sector. Our ERP solution unitop ERP Multichannel offers numerous connections to marketplaces, online shops, partners, and payment providers to provide you with such data. Our customers use the following interfaces: online shops (Magento, Intershop, xt:commerce, Shopware, and many others), marketplaces (Amazon, eBay, idealo, Rakuten, etc.), individual online shops, connections to payment providers (Heidelpay, Payone, PayPal, Saferpay, Wirecard, etc.).
Data access worldwide
As you conduct your day-to-day business completely from unitop, you and your employees always have access to all relevant data and data sources in your business – anywhere in the world and with any device. Interfaces and sources of error disappear, thus creating transparency: you save time and money – thanks to unitop, the software for e-commerce.
Individual interface design
The more focused the information available to you, the more successful the measures based on it. We focus on the role personalization of Microsoft Dynamics 365 Business Central (formerly Navision) to improve your productivity and decision-making and further simplify the use of unitop. This ensures that you only see the information that you actually need in your day-to-day business in your ERP software interface. It looks familiar and is easy to use thanks to the look and feel of Microsoft.
Expertise and future security
GOB: a strong partner. We look back on more than 1,000 international and national projects that have been implemented successfully. These experiences are reflected in the development of our unitop solutions. As a result, we offer our customers a wide range of functionality and extensive knowledge of various industry sectors.
From the item cockpit to online shop integration
unitop ERP Multichannel is an integrated ERP software that fully covers industry-specific requirements – tailored to the needs of your small or medium-sized business. It ensures that there is a perfect synthesis of all business processes across all sites, businesses and countries and that internal and external communication works properly. It is based on a scope of services that is more extensive than with any comparable solution.
Scope of services
An excerpt of what unitop can do:
You have quick and easy access to all relevant information for an item in the item cockpit of your software – this includes offers, orders, purchase orders, scheduling data, item references and much more. Would you like to visualise your items with photos? You can do this easily using the drag & drop function.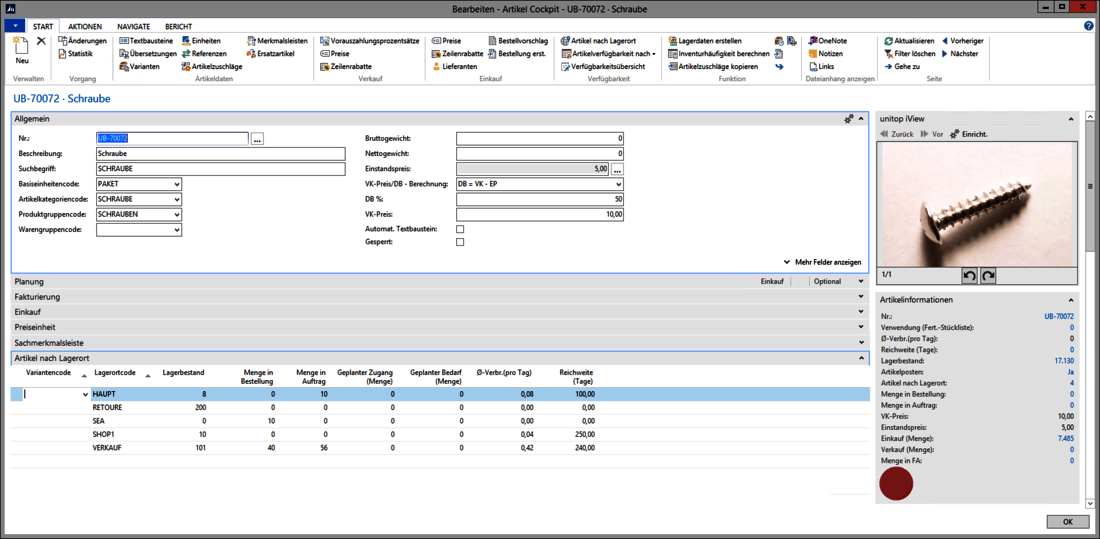 Just a few clicks of the mouse provide clarity in terms of customs regulations as you submit export applications electronically to the customs authorities via the ATLAS interface. You receive an immediate response regarding export approvals or rejections thanks to the online connection.
With the control console in unitop ERP Multichannel you can allocate available stock to open orders or specifically cancel outstanding balances. The availability of individual orders including positions is clearly mapped in your multichannel software using a traffic light system. Orders can be released manually or automatically via a delivery proposal.
unitop ERP Multichannel stores all the changes requested by the user and ensures that they are immediately comprehensible in the record: it saves the original value of the modified data field as well as the date of the change and the name of the operator. A large number of our customers use it to document the processing of master data relating to items, customers and suppliers but also for sales and purchasing documents, etc.
Quality management and the traceability of items in a convenient manner! With unitop ERP Multichannel you can seamlessly track all movements in your multichannel software using batch or serial numbers - from goods receipt through to goods issue.
Substantially reduce your employees' search times by using document management in your ERP software for the transaction-based storage of internal and external documents, such as e-mails, incoming mail, complaint documents, drawings or even order information. You can also provide information quickly and systematically in the event of any queries.
Exchange data with your business partners in EDIFACT format. You can perform the mapping between the Microsoft Dynamics Business Central user data and the data exchange tables yourself.
unitop ERP Multichannel proposes alternatives to the user when selecting items. If the item is discontinued, it is automatically replaced or a replacement item is proposed, depending on your setup. In addition, cross-selling items are identified in the ERP software based on historical sales and stored with the item.
unitop accesses a central database, providing the best conditions for your reporting and hundreds of standard reports for Microsoft Dynamics Business Central. In addition, you can display your evaluations in Excel at the touch of a button – or even subscribe to SQL Reporting. If you would also like to integrate data from external sources into your evaluations, then opt for Business Intelligence. With this spectrum of services unitop ensures that the desired information is available to all employees in a timely and transparent manner.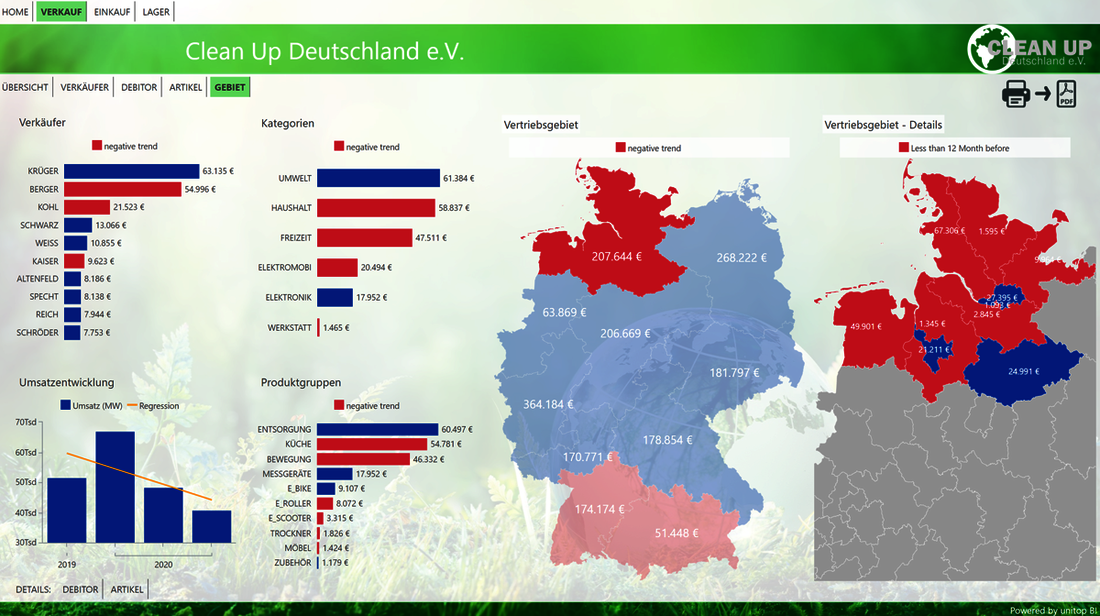 Create campaigns quickly and easily. In general, these are seasonal promotions that can be controlled via the software. The user can decide separately which items are to be used for each individual campaign. The contacts are selected based on freely definable criteria. In addition, you can define which items are valid for each campaign. Prices and discounts per item and campaign can be defined separately in your multichannel software.
The shipping of catalogues is organised quickly and easily in unitop ERP Multichannel via so-called segments. Your multichannel software logs both the customers and the items included in the catalog as well as the placement percentage. This data is available to measure the success of the campaigns at a later date.
unitop ERP Multichannel integrates almost all well-known forwarding agents. This means that you do not need any other interfaces to the forwarding agent's software. From label printing and end-of-day procedures through to automatic shipping notifications – everything is integrated into your ERP software. It supports the following service providers, amongst others:
Deutsche Post/DHL
UPS
DPD
GLS
TNT
Hermes
Essential for multichannel sales: you have all information about prospective customers, customers and suppliers at a glance on one screen in the contact cockpit – from contact details for all contacts, completed tasks, open transactions (orders, complaints, e-mails, phone messages) through to unpaid invoices.
Support all standard processes in your business via the warehouse management system (WMS): from goods receipt, warehousing and picking through to goods issue. The WMS supplements the scope of standard functions in the warehouse domain and offers an almost unlimited database to enhance all processes within a warehouse. The aim is to focus on the simplicity, transparency, flexibility, integration, speed and other advantages of Microsoft Dynamics Business Centrral in multi-channel trade.
Fair prices are a factor of your business success. As the market price for metals and alloys fluctuates virtually every day, you can define up-to-the-minute prices in your ERP software, which are then included automatically in your prices.
Optimise your warehouse! With ERP Multichannel you can use state-of-the-art technologies, for example, to support picking, warehousing, the relocation of items or your stock, thus keeping processes transparent and your goods flowing smoothly. We use the following technologies today:
Truck guidance systems
Mobile data acquisition systems
Pick by voice
Pick/put by light
You can record the working hours of your employees with the time & attendance recording in your software for multichannel trade. There may also be good reasons to only permit access to certain areas of the business. The time & attendance recording makes this all possible – using chips or ID cards that are read at the entry and exit areas of your business.
Do you offer your customers a service that they can call upon after purchasing your products? Then you can manage a wide variety of services, such as repairs, the replacement of parts or regular maintenance with unitop – your software for multichannel trade. You always have an overview of warranty periods, servicing, replacement deliveries, etc.
Online shops and marketplaces can be connected to multichannel software via standard interfaces or operated directly from Microsoft Dynamics Business Central. You can maintain the entire setup and logic of an online shop and online marketplace in Microsoft Dynamics Business Central. Our customers already use standard interfaces for the following online shops and marketplaces:
Online shops (Magento, Intershop, xt:commerce, Shopware and many more)
eBay
Amazon
Independent online shops, integrated into unitop ERP Mail Order
unitop ERP Multichannel also supports the connection to payment providers, such as PayPal, Saferpay, Wirecard, etc.
Workflow makes your work routines more efficient, especially when several employees are involved – from the checking of incoming invoices and complaints through to the maintenance of item master data. You can always be sure that the defined tasks are completed on schedule in the correct order. Your employees automatically receive notification. Workflow provides valuable services, especially for time-critical processes or approval procedures.