Microsoft SharePoint is a platform engineered for collaboration and for exchanging information throughout the company. Its greatest strength lies in the flexible possibilities for storing structured data and for securing the data. In particular, the various versioning options should be mentioned here. The SharePoint server allows you to process information with the possibility to return to the starting point whenever you want.

Other assets of Microsoft SharePoint are the powerful search engine and the possibility to add meta data (additional keywords) to almost everything. These tools are necessary to easily track down the information provided. For this purpose, Microsoft offers a range of building blocks that can be combined in a way that is most useful for the task at hand.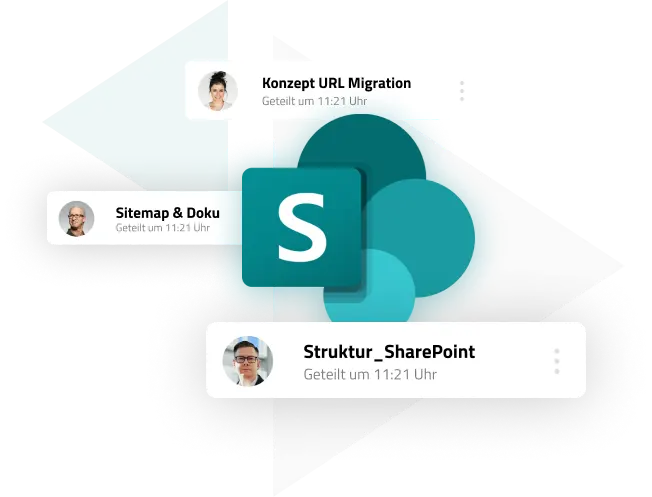 E-mails keep flooding in. Chaotic information due to the lack of up-to-date data. Different levels of knowledge cause time-consuming coordination of your employees. Do you lack a complete overview and a central data management that really makes sense? Share and manage contents, specialized knowledge, and applications to increase efficiency, find information faster, and work together seamlessly.
Central document management (DMS)
SharePoint offers you a wide range of possibilities to store your collected documents centrally, to manage them or to archive them automatically, compliant to auditing requirements.
Easy searching and finding
You can index your data by keyword and customize the search. This reduces your search times thanks to individual search or sorting filters and you can find your relevant data (e. g. documents, blog postings, content pages, etc.) in no time at all.
Data history/version control
All participants always have access to up-to-date data in SharePoint. This ensures a consistent knowledge level. You can activate the version history to trace changes.
Gathering and sharing knowledge
SharePoint is the ideal tool for storing the company's knowledge centrally in one place. Instructions and field reports can be shared with the whole company with SharePoint. SharePoint comes with several content types for sharing information, like communication websites or blog posts.
Create and edit together
You can share your data with others and work on it together as soon as you have saved it in SharePoint. You will improve the teamwork at the same time. In addition, you can assign individual access rights to users.
Smart connection to Microsoft Teams
SharePoint is the perfect basis for great collaboration, and it can be connected to Microsoft Teams. Whenever you generate a "Team", a SharePoint site will also be generated where the documents of the respective team can be stored. SharePoint sites are also perfect for collaborating in small or in larger groups without Microsoft Teams.
Mobile access anywhere
Access your data independent of location, time, and device. All you need is an access to the Internet, or you use the mobile SharePoint app. You can finish work on your documents on several devices thanks to the smart Office integration.
Productive business processes
Optimize your processes – whether it's short notifications, approvals, or other business workflows – with SharePoint lists and libraries or with the integration of other Microsoft tools.
Future security
You too can benefit from the continuous development by Microsoft, just like the more than 200,000 businesses and 190 million users that already use SharePoint.
Which SharePoint?
SharePoint or SharePoint Online?
We put together a short overview for you to illustrate the differences between SharePoint and SharePoint Online.
Cloud-based
Uses all of the advantages of a cloud-based work environment
Access anywhere, at any time, with several devices
Service hosted by Microsoft
For businesses of all sizes
Create websites
Release documents
Integration of Power Apps, Power BI, Power Automate
SharePoint Server (on-premises)
Company-owned local server
Independent management and maintenance
Creating websites and webparts
Creating documents
Lists and libraries
Integration of Power Apps, Power BI, Power Automate
Modern search
Connections and data sources
Interconnect all data smartly and use it instantly
You can store and create all kinds of data in SharePoint. The whole bandwidth of Microsoft 365 is available to you, be it Word, Excel, or PowerPoint. In addition, SharePoint offers you the possibility to use data or services from other sources. You can use Microsoft Power Automate to e. g. automate the data exchange or to synchronize your data.
Typical examples for applying SharePoint include:
Websites
Intranet
Document management
Project management
Calendar for service technicians
Course management/event registration (with connection to Navision/Business Central)
Member and section portal
Ticket system (incl. process automation)
Customer portal, document query, consignment warehouse, call-off
Examples of GOB using SharePoint:
Intranet
unitop4sure (project management portal)
Customer portal
Benefits
Your benefit from SharePoint
This is a topic that is increasingly becoming the focus of our time. Thanks to the virtual center, documents no longer need to be printed but can be collected in one place and released online. Minimize your paper consumption.
Keep the complete overview over your data and processes.
SharePoint is the basis for interconnecting other Microsoft solutions smartly, benefiting from all advantages.
Cloud solutions like Microsoft 365 and SharePoint Online can be used as a DMS that complies with auditing requirements, according to legal requirements.
No more stalling in the flow of information, saving time and motivating your employees. This also increases your productivity.
All data is stored on a secure platform that complies with the GDPR. The integrated data-protection features will assist you in GDPR issues and in guidelines for accessibility.
The direct connection to Microsoft Dynamics 365 Business Central offers you a powerful tool.
Connections and data sources from SharePoint
We are Team GOB, your partner for SharePoint
We truly are a medium-sized company, just like our customers. Half a century of experience with small and medium-sized businesses from industry, trade, and the non-profit sector enables us to meet our customers eye to eye and to adjust to their individual needs. Our employees are our greatest potential. We know that, and that is why continuous development and further education of our more than 300 employees is an essential characteristic of working together. It's all in the mix. Our employees bring experiences from various (specialized) industries, a real added value for everyone involved!
But that is not all. What is the point of the best software solution if our customers are not able to use it the right way? Taking every single person with us on the journey into the digital world is a matter of great importance to us. We will take you by the hand and we will walk the way together with you at your individual pace. Step by step. Successful communication is very important to us, which is why consulting and service "eye to eye" is our top priority.
From the idea to going live
Rely on SharePoint and tap the full potential of the solution. We recommend that you map out a strategy first that is applied throughout your whole business. We will be happy to help you with it. Our offer is based on our long-term experience in consulting and in implementing Microsoft 365 projects. It will be a pleasure to our experts to advise you on the various possibilities of strategy, introduction and implementation. We look forward to talking to you about how we can accompany you on the way into digitalization.
Installation/implementation
We install and set up SharePoint for you.
Conception of portals
We develop a concept for one or more SharePoint portals with you, taking into consideration your individual requirements. These can be e. g. authorization concepts, intranet, extranet, other interfaces, etc.
Transition to SharePoint
We also offer transitions or version updates from SharePoint to SharePoint Online.
Customization
We integrate and implement your specific requirements in SharePoint.
Interfaces to Microsoft Dynamics NAV/Business Central etc.
Synchronize your data with existing systems like Microsoft Dynamics NAV or Microsoft Dynamics 365 Business Central. We will set up the necessary connection for you.
Employee training
We will gladly offer your employees trainings for SharePoint to optimize the introduction.