Microsoft Power Apps
More features for your business: fast, easy, and without compromises
Increase the agility in your business, modernize your internal processes, and overcome the challenge of digitalization. Create your own, user-defined apps for day-to-day business requirements with Microsoft Power Apps. Available on any mobile device or in classical browsers, PowerApps facilitates your working life.
With Microsoft Power Apps, you can create applications quickly and easily with innovative development interfaces and pre-fabricated templates. And all that without complex code. You can integrate Microsoft Power Apps into almost any of your systems, automating manual processes that used to require extensive data management. You save time and minimize your error rate. Benefit from a high level of flexibility and from numerous integration possibilities.
We offer you Power Apps to overcome your challenges. In connection with your current systems and the Microsoft 365 range of products, Power Apps help you to simplify your employees' working life and to speed up your business processes.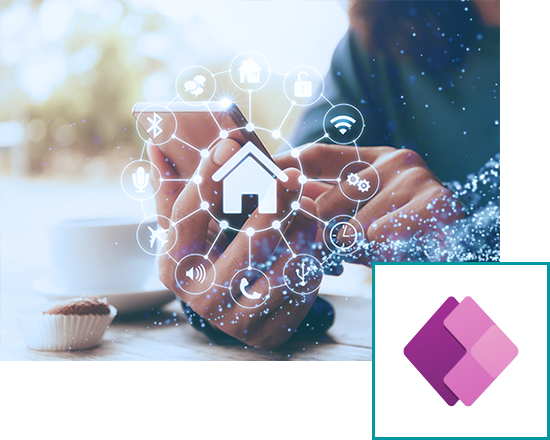 Your processes are based on an interaction of various systems and data sources; but who keeps track of things? Are your work processes done manually, are they time-consuming and error-prone? Do you lack the time to concentrate on more important processes? Microsoft Power Apps offer numerous features and possibilities for optimizing your business solution. Say goodbye to needless manual data entry, to time-consuming logs, long release loops, and inflexible data access.
Cloud and on-premises
Data connections to more than 275 cloud services, databases, interfaces, and on-premises services can be used in the app with one click. Additional connections to your own services are also possible.
Device-independent use
Develop powerful apps for browser, tablet, and smartphone with Microsoft Power Apps.
Design your individual apps
The Power application is created in an intuitive online editor. The application's design can be defined using a variety of controls. You can test the application at any time during the development using the integrated preview.
Template usage
Power Apps can be designed freely. Microsoft also supplies some templates that can serve as inspiration or can be used as fully functional, standalone apps.
Reusable elements
The elements created can be imported into other Power Apps and can be reused in the application.
No programming skills required
Ready-made building blocks like the evaluation of invoices or text recognition can be included into the Power App through the AI Builder. A developer can of course still expand the app.
Integration into Microsoft 365 and Dynamics 365
Power Apps can be fully integrated into Microsoft 365 and Microsoft Dynamics 365, e. g. as Outlook add-in, as entry masks for Microsoft SharePoint and Teams, or embedded in Microsoft Dynamics 365 Sales.
Connections and data sources: interconnect all data and use it instantly
You can connect numerous apps in Power Apps. Simultaneously, you can use your data from various data sources and expand it. This way, your business always accesses a central, concentrated knowledge database.
Individual approaches with Power Apps: Can you see yourself in the examples?
Can you see yourself in one or more of the following case studies? Then it is high time for you to accept the challenge and to transfer to Power Apps!
Duplicate or redundant manual data transfer
Do your warehouse employees print their packing list in a central place, pick according to the list, make handwritten notes to missing pieces or variants and do they need to transfer these notes back to the ERP system manually?
Time-consuming logs and organization
Do you collect all your colleagues' digital notes from Word, OneNote, or simple text files after a meeting, add images to them from other data sources and are you desperately looking for a way to make the log created by you available to the other participants? Do you also need to organize a follow-up meeting and to assign the tasks clearly to the others? Do not lose track!
Long and complicated approvals
Does this seem familiar? Your employees send emails with requests for material or appropriation to the purchase department. The purchase department must then identify the superior of the applicant who will have to approve the requests. The superior happens to be on vacation, though. How can a correct order be generated in the ERP system when there are still questions about unclear item descriptions that currently cannot be answered?
Inflexible data access
Would you like to give your employees access to the data in your system, anywhere and at any time? Is this impossible because your system does not have a web application or an app?
Data from almost any data source can be read and transferred into another data source without leaving the app, thanks to its versatile connectivity.
Existing systems often require little to no adaptation for a connection to Power Apps.
Forms and entry fields are used to unify the entered data for all users of the app.
Through the connection of various systems, processes can be visualized fully or partly automated in the background with Microsoft Power Automate.
The simple development interface with pre-fabricated controls makes for short development times when compared to conventional app development. Due to the large number of connectors to other systems, development requires little effort.
Power Apps can be run on smartphones with Android or iOS or via an app. On all other devices, the app is run through a web-based interface.
The app can even be used to read and edit the data without connecting to a network.
Typical, convincing application scenarios
Typical examples for applying Power Apps include:
Picking app with connection to Microsoft Dynamics NAV 2018
Device management (Microsoft SharePoint)­
Inventory (Microsoft Dynamics NAV 2009)
Appointment assistant (Microsoft SharePoint)
Material and appropriation requests (Microsoft Dynamics Business Central & Microsoft SharePoint)
Patient reports in medical practices (Microsoft Dynamics NAV 2013)
Trade show management (Microsoft SharePoint)
Examples of GOB using Power Apps:
Meal plan (SQL database, fully automated integration of the catering partner)
Product and service guide (Microsoft SharePoint with offline functionality)
Meeting wizard (connection to Microsoft Outlook, Planner, OneNote)
Room planner (SQL database)
Sales support (connection to NAViGOB & Microsoft SharePoint)
Trade show management, contact registration with business-card scanner (Microsoft SharePoint & Microsoft Azure features)
Countless individual apps that are used in GOB's teams
TeamGOB
We are Team GOB, your partner for Power Apps
We truly are a medium-sized company, just like our customers. Half a century of experience with small and medium-sized businesses from industry, trade, and the non-profit sector enables us to meet our customers eye to eye and to adjust to their individual needs. Our employees are our greatest potential. We know that, and that is why continuous development and further education of our more than 300 employees is an essential characteristic of working together. It's all in the mix. Our employees bring experiences from various (specialized) industries, a real added value for everyone involved!
But that is not all. What is the point of the best software solution if our customers are not able to use it the right way? Taking every single person with us on the journey into the digital world is a matter of great importance to us. We will take you by the hand and we will walk the way together with you at your individual pace. Step by step. Successful communication is very important to us, which is why consulting and service "eye to eye" is also a top priority for us.
From the idea to going live
Behind Microsoft Power Apps is a powerful tool. We recommend that you inform yourself thoroughly about it first and map out a strategy that is applied throughout your whole business. We will be happy to help you with it and to advise you on possible solutions. Do not hesitate to give us a call.
Easy start
Webinars introducing the tool & solutions to inspire you
Workshops to identify potentials
Analysis of the resources involved and of the current processes
Conception for the connection of existing systems
Cost analysis
Development of design matching the CI
Generation of a utilization concept
Stages of development of the Power App
There are several stages of development of a Power App:
Complete implementation of the Power App by GOB
Generation of a basic app that can be taken over by your in-house developers
Support in the implementation of more complex applications
Training your employees to develop Power Apps in-house
Further implementation
Generation of extended services to be connected to Power Apps
Development of a concept for rollout & employee trainings
Recommendations on licensing
Inclusion of the management, the staff association & the user groups
Successful commissioning
Solution rollout and accompanying measures (trainings, project management)
Concepts for the further distribution to other locations or company sections
Support by GOB
Provision of additional licenses
Documentations
What actually is behind Microsoft Power Apps? It offers you a wide range of features that support the process optimization and the collaboration in your business. We will give you a rough outline of the applications in our webinars.
to the Power Apps webinar
to the Power Apps NPO webinar
Reference
That's what our customers say
The transition to the Power App caused an increase in the productivity of the individual employee by 6% from ⌀ 1360 items packed per hour to ⌀ 1450 items.
Albrecht Ball, Managing director
Weiss Tex GmbH