unitop – our industry solution for trade, industry, pension institutions and NPO
Enter the world of unitop – unitop is the name of our industry software and a very special product that visualizes the processes of your company or organisation in standard features in a unique way. We focus especially on processes that are economically important for small and medium-sized businesses. On top of that, unitop is an all-in-one solution: Accomplish all tasks of your day-to-day business with one application. The result: less interfaces, less sources of errors, more transparency. Our industry-specific software is based on the ERP software Microsoft Dynamics NAV that can visualize most businesses processes. This is not sufficient for us, however, so we improved Microsoft's software. We put our experience from over 1,000 ERP projects into the development of unitop.
This makes unitop a very special, one-of-a-kind software. We are aware that changes are part of healthy growth, which is why unitop is constantly updated and tailored to your needs.
We also take care of the compatible IT infrastructure and hardware to provide a solid base for our software.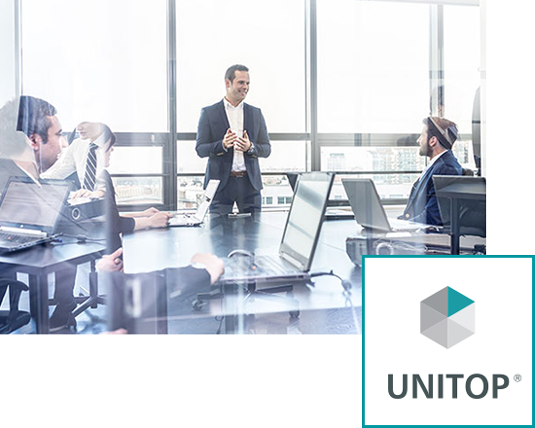 unitop Pension
integrated ERP Software
Details
unitop Infrastructure
integrated ERP Software
Details
unitop 4sure
IT Projectmanagement
Details
Become one of our satisfied customers
Support all of the standard processes in your company with the warehouse management system (WMS): from goods receipt via putaway and picking to goods issue.
Wir digitalisieren den Mittelstand. Machen Sie mit!
Technologisch hochspezialisiert auf ERP-Softwareberatung und ganzheitliche IT-Lösungen, zählen wir zu den größten und erfolgreichsten Microsoft-Dynamics-Partnern weltweit.
Womit wir unsere über 500 Kunden überzeugen? Mit unitop. Unserer ganzheitlichen Branchenlösung für Handel, Industrie, NPO, Fundraising & Altersversorgung. Dabei vertrauen unsere Kunden auf das #TeamGOB mit seinen über 330 qualifizierten und gut ausgebildeten Kolleg:innen, die tagtäglich an unseren Lösungen und gemeinsamen Erfolgen arbeiten.
Jetzt beraten lassen
1.500
realisierte Projekte
330
Mitarbeiter im #TeamGOB