Microsoft Dynamics 365 Business Central – the all-in-one solution for your business
Microsoft Dynamics 365 Business Central is the all-in-one business solution for small and medium-sized businesses. Optimize your business processes, control your workflows, and profit from the comprehensive features brought to you by Microsoft Dynamics 365 Business Central.


Drive digitalization in your business and manage finance, sales, services, and enterprise-resource planning from one central platform. Isolated solutions are a thing of the past with the implementation of Microsoft Dynamics 365 Business Central. Ensure that your business is prepared for the future with Microsoft Dynamics 365 Business Central.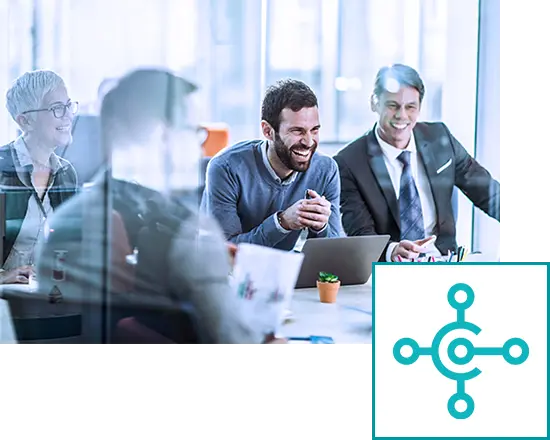 Microsoft Dynamics 365 Business Central: the 365° view
Are you flooded by data? Has your old ERP system long been unable to handle this flood of data and does it keep you from continuing to grow or from optimizing your processes? Do your relations to customers and suppliers suffer because you do not have enough time for administrative and organizational tasks? Are you starting to lose track? If you even answered one question with "yes", then it is about time to put an end to this situation.

Optimize your processes with Microsoft Dynamics 365 Business Central and manage your whole business out of just a single solution. The all-in-one solution offers businesses numerous features and many possibilities to customize it to the specific requirements of any business and to drive the digital transformation.
Industry solution unitop, from a family-owned company to small and medium-sized businesses
Because we know what you need.
Maximum flexibility
Use all the advantages of the cloud – from anywhere, at any time.
Work faster, better, and smarter
All relevant information can be found centrally in one place and can be customized for each employee. Working with the system is intuitive.
Future security and growth
React to new requirements with extensions and scale your system.
Less risk, more success
Profit from the consistent development by Microsoft and from a strong partner network.
Boost your company's success
Increase the productivity of your business, optimize your supply chains, and profit from the comprehensive features that influence many business areas.
Latest technologies, implementation close to the standard, digitalization of processes
unitop unites all elements that you need to be ready for the rapidly changing requirements today and in the future and enables you to successfully master new challenges.
Apps for Microsoft Dynamics 365 Business Central
Discover our unitop Extensions
Make your organization more efficient and more transparent permanently with the ideal app for you. Build on the application that you use today. Add new features to your existing application to further customize your industry solution: Just use an app.

Customize the software basis with the help of extensions. Extensions are a simple possibility to customize your industry solution without changing the standard code.
Information for Navision users
Do you use Microsoft Dynamics NAV, and do you wonder what the change from Microsoft Dynamics NAV to Microsoft Dynamics 365 Business Central means for you? You can continue to run Microsoft Dynamics NAV either locally or as a hybrid model. Microsoft stopped using the name Microsoft Dynamics NAV in 2019 in the newest version. Users of a local instance of Microsoft Dynamics NAV can continue to use it as before. For these users, only the name has changed.
We are Team GOB, your partner for Microsoft Dynamics 365 Business Central
We truly are a medium-sized company, just like our customers. Half a century of experience with small and medium-sized businesses from industry, trade, and the non-profit sector enables us to meet our customers eye to eye and to adjust to their individual needs. Our employees are our greatest potential. We know that, and that is why continuous development and further education of our more than 300 employees is an essential characteristic of working together. It's all in the mix. Our employees bring experiences from various (specialized) industries, a real added value for everyone involved!
But that is not all. What is the point of the best software solution if our customers are not able to use it the right way? Taking every single person with us on the journey into the digital world is a matter of great importance to us. We will take you by the hand and we will walk the way together with you at your individual pace. Step by step. Successful communication is very important to us, which is why consulting and service "eye to eye" is also a top priority for us.
From the idea to going live
Rely on Microsoft 365 Business Central and tap the full potential of the solution. We recommend that you map out a strategy first that is applied throughout your whole business. We will be happy to help you with it. Our offer is based on our long-term experience in consulting and in implementing ERP solutions. It will be a pleasure to our experts to consult you on the various possibilities of ERP strategy, introduction and implementation. We look forward to talking to you about how we can accompany you on the way into digitalization.