unitop4sure – IT project management at its best!
Create successful projects with us
The success of a digitalization project depends not only on choosing the right partners and technology, but also to a large extent on planning and creating the framework conditions for the project. We achieve this with our IT project management unitop4sure that is tailored to your individual needs.
Based on Microsoft SharePoint, our IT project management unitop4sure is completely visualized in a portal and serves as knowledge and communication platform in the framework of our collaboration. We worked together with the auditing company Bansbach to have our standardized project process for software deployment and customization and the process for data transfer tested officially and to have the compliant approach certified.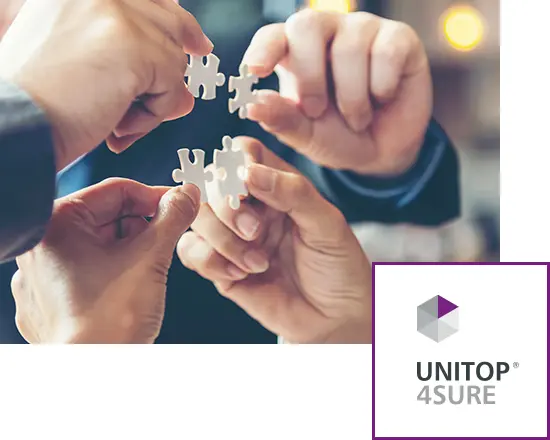 Profit from our tried-and-tested unitop4sure IT project portal
The IT project management unitop4sure structures and records discussed, agreed, and prepared topics like your knowledge and your requirements and enables all parties involved to follow the whole life cycle of the IT projects. We guarantee a maximum of transparency and a comprehensive knowledge base of all participants with this portal. This guarantee applies during all phases of development and deployment and also when the system is up and running or in case of a new release in three, five, or ten years.
The most important advantages of unitop4sure at a glance
LOCATION-INDEPENDENT ACCESS FOR ALL PARTICIPANTS
UNIFORM COMMUNICATION WITH ALL PARTICIPANTS AND CLEAR ALLOCATION OF TASKS
PROMOTION OF SYSTEMATIC KNOWLEDGE RECORDING
GUARANTEE OF A STRUCTURED REQUIREMENTS MANAGEMENT
STANDARDIZED APPROVAL WORKFLOWS
VISUALIZATION OF THE CORRESPONDING ROLES AND RESPONSIBILITIES
PRECISE PROJECT CONTROLLING
DEVIATIONS FROM THE TARGET ARE RECOGNIZED AND RECTIFIED EARLY
BUSINESS-MANAGEMENT SERVICES: REQUIREMENTS MANAGEMENT, PROJECT CONTROLLING & BUSINESS-PROCESS MODELING
Which methodologies are applied?
Our longtime and successful experience in the deployment of unitop and the orientation on the norms of Microsoft Dynamics 365 Business Central give the IT project management unitop4sure its own structure in the form of a phase concept.
A short summary of the classic methodology:
The classic methodology model developed by GOB is divided into five phases based on the waterfall methodology: reference analysis, detailed specification, development, deployment, and going-live support.
In the first phase, you will get documents with the requirement recorded in the reference analysis. These documents contain the target of each requirements and process description. The reference analysis is used to find differences between your requirements and the standard software. The description of the implementation of your processes will be added to the document created in the phase of the detailed specification. The third phase of the IT project management unitop4sure consists of the development of your application based on the jointly created detailed specification. All activities for going live, i. e. test of individual features, integration test, data transfer, and stress test are done during deployment. The optimization of detailed processes in setup tasks is conducted after going live in the last phase of our IT project management unitop4sure.

Agile methods like Scrum or Kanban are much more flexible than classic methods and can also make better and more efficient use of existing resources in most cases. This often allows for a much faster progress of a project.
The most important core features of the "GOBagil" methodology:

People, organization, and technology in harmony
Everybody talks about digitalization these days. It is generally acknowledged that digitalization is a fundamental change of structures and processes and of the way we work together. Development and deployment of the unitop business solution is a technological challenge, but also an organizational and communicative challenge in which we support you with the appropriate technology, our method of implementation unitop4sure that was tried and tested in hundreds of projects, and with advice on digitalization and change management.
The team "Digitalization and Change Management" always analyses your processes from all points of view, defines realistic possibilities for application and supports you in ensuring that your employees will accept the new solution. This way, we as GOB arrange for your project to run smoothly and make you keep an overview over the current state of the project.